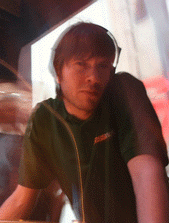 Jumpat
habe ich über eine Chatbox kennengelernt, die Scientek Basement damals noch auf ihrer MySpace-Seite installiert hatten und in der es immer sehr lebendig zuging. Seiner
Einladung
habe ich es zu verdanken, dass ich mich am 11.05.2007 ins Auto setzte und die 400 km nach Köln fuhr, um dort durch die erste Drum & Bass-Nacht meines Lebens zu tanzen ;)
Der Einfachheit halber stelle ich ihn durch seinen eigenen Promo-Text vor:
"
Patrick aka JUMPAT is spinning Drum & Bass music since 2000. At his hometown Oldenburg he became famous by often being guest on the radioshow 'RudeboyFM'. One year later he moved to Cologne and easily found a platform at 'LiquidSkyClub' (R.I.P.). There followed different open air events and clubnights such as RDA, Rheinfeuern and Borderline.

At the RDA event "Yes, we like liquid beatz!" in 2005 the SUNANDBASS crew noticed Jumpat the first time and immediately invited him to Europe's biggest Drum & Bass festival on Sardinia. There he convinced with his selection in a way that he became resident at the festival.

In 2007 the Quake! crew booked him as guest DJ and Jumpat managed to prove his skills again. As a consequence of that he is now an inherent part of the Quake! team.

His eclectic selections and his keen sense for the crowd turn him to a very useful DJ. So Heiner Kruse, the head of Basswerk, commited him lately as resident for their club night, Basswerk Sessions.
"
Von seinen zahlreichen Studio-Mixen ist dieser hier nach wie vor einer meiner all-time favourites:
Just Juggling (2)
Alix Perez & Sabre - Solitary Native [SGNLTD 004]
Sabre - Riverside [Lucky Devil (white)]
Alix Perez & Sabre - Old Flame [SGNLTD 004]
Nu:tone - Beatnik [NHS120]
Commix - Talk to Frank [METH072r]
Verse & SP:MC - Borderpatrol [CRUNCH 007]
Visionary - No Love [PLAY:ME:12:003]
Klute - Come Back 2 Me [Soul:R 019]
Autumn - Transmute [FOKUZLTD 013]
38 min | 89,9 MB |
download
Ganz aktuell, d.h. vom Oktober 2009:
Jumpat - Just Juggling (8)
Ill Logic & Raf (feat. Fatima) - Evil Doesn't Live Here [Bingo]
Henree - Liberty [Vampire Records]
Calibre - Ringtone [Samurai Red Seal]
Silent Witness & Break - Rain Man [Commercial Suicide]
Bulletproof & Teknik (feat. Nymfo) - 3 Of A Kind [Cyanide]
Prolix & Maldini (feat. Vegas) - Hall Of Mirrors [Ganja Tek]
Break - Is This What You Want? (VIP Mix)
BTK & Jumpat - Funky Munky [Cyanide DUB]
Phobia - Hatcher [Renegade Hardware]
S.O.M. - Wake Up Call (Awakening) (Mindscape RMX) [SOM]
BTK & Jumpat - No Justice No Peace [Basswerk]
Cern - Trinity [Renegade Hardware]
Prolix - Ice Cold [Ganja Tek]
Rregula & Dementia - City Of Dogs [Disturbed]
>>D-Bridge - Mourning Dawn [Exit]
45:27 min | 62,4 MB | 192 kBit/s |
download
Ein weiterer Mix von Jumpat, schon etwas älter:
BIOS Christmas-Mix (2006)
Sabre feat. Kase "Gift you Gave" [EMC019]
D-Bridge vs. A.I. "Odessa" [EXITVS003]
Logistics "Summer Sun" [NHS96]
Drumagick "Goran" [BIOS001]
Crisis Loan "trip to the stars" [BEATALISTICS003]
Contour vs. Stunna "Neverlove" [BIOS001]
Spirit "Lost & Found" (Tactile RMX) [INNA014]
Calibre & Singing Fats "Drop it Down" [SIG006]
Electrosoul System "Slice" [GRIDUK008]
Zero Tolerance & Rohan "User Deadly" [LQD010]
A.I. "Movin On" (Dj Marky & Bungle RMX) [VRECSUK014]
Total Science & Mc Conrad "Soul Patrol" [CIA033R]
Loxy & Amaning "25 th hr" [BEATALISTICS003]
Cyantific "Be True" [NHS65]
Klute "Come Back 2 Me" [SOULR019]
52:28 min | 72 MB | 192 kBit/s |
download
tbc ;)
>>
Musik lesen: Jumpat - Just Juggling (2)
>>
Musik hören: Inhaltsverzeichnis
>>
Musik hören: Start